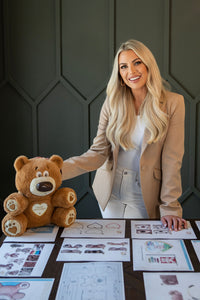 CAT KOZUCH
FOUNDER & CREATOR
BELIEVE A BUDDY
Cat Kozuch, the founder of Believe a Buddy, is thrilled to share the inspiring story behind this innovative and empowering children's toy. Kozuch, an Adelaide-born Arizona immigrant and motivational survivor, defied the odds after a life-altering dune buggy accident in 2008 left her initially paralyzed. Through determination and visualization, she not only regained her ability to walk but also turned her recovery journey into a powerful tool to motivate children.

"Creating a children's mindfulness toy is an incredibly inspiring experience as it allows you to connect with your inner child and bring joy and self-empowerment to children's lives," explains Cat Kozuch, Founder of Believe a Buddy. "Knowing that your creation can bring smiles to children's faces and ignite their imagination to believe in themselves is truly fulfilling."

Believe a Buddy was created out of Kozuch's extraordinary recovery journey, her passion for affirmations, and a heartfelt tradition with her father. Her father would bring her a teddy bear on each visit during her hospitalization. These bears, adorned with affirmations Kozuch had written on her hospital whiteboard, provided her with comfort and resilience. Fourteen years later, the idea of an affirmation teddy bear struck her, leading to the creation of Believe a Buddy.

Believe a Buddy is an interactive affirmation bear designed to shift negative thinking patterns in children and replace them with positive ones. This toy encourages daily reaffirmation of positivity and mindfulness, nurturing growth and self-belief. Kozuch's hope is to inspire a generation of resilient individuals who can overcome any obstacle.

Every aspect of Believe a Buddy has been meticulously designed to deliver a personal and engaging experience. It features perpetually positioned arms for constant hugs, stars on the paws symbolizing the magic of affirmations, and a heart of gold at the center of the belly to remind children of the power of self-belief. Believe a Buddy is more than just a teddy bear—it becomes a friend, a mentor, and a beacon of positivity.

Believe a Buddy is specifically designed for children aged 3 and up, making it particularly helpful for parents struggling to maintain their children's attention while teaching affirmations. Kozuch envisions Believe a Buddy as an essential tool in classrooms, hospitals, homes, or any environment where children are present, providing comfort and motivation just as her teddy bears did during her hospital stay.

"I believe the two most powerful words in the world are 'I AM,' and the third most powerful word or sentence is whatever follows 'I AM'," Kozuch says. "Positive affirmations can help individuals achieve their goals, improve their mood, overcome negative self-talk, and cultivate a more positive outlook on life."

In a world influenced by social media, where bullying and comparison are prevalent, Kozuch hopes that children will understand their inherent power from an early age and remain confident in their beauty, intelligence, talents, and skills.